Love Messages For Him: When we want to make someone fall in love or show our love to our partner, it is when we have an urgent need to try to find those words that only the best messages of love can give us since only with those beautiful words are all those feelings that awaken in our hearts those loved ones. At Dmessages we know how hard this search can be, so we make your job easier and present you with only the best words of love:
Love Messages For Him
There is nothing more beautiful than looking up at the sky at night and looking at the stars, so I can find a new one and whisper another reason why I love you. Keep this in mind when you look at the sky, each little point of light tells one of the reasons why I love you so much.
The terrible distance that prevents me from talking to you, smiling at you and hugging you in person, but do you know what bothers me the most? That does not let me hug you as I wish.
Do not worry, if you are busy it is fine, just give me that little time you have left and during those moments I will make you the happiest person on the planet.
While I sleep my soul and my heart leave my body, they go to your home and watch you sleep, I can't help it, you are their other half.
I want to become a thief of seconds, minutes and hours, I want to have power over time itself, so I could stop and treasure every second that we spend together.
I will never tire of looking at your sweet eyes, kissing your soft and smooth lips, caressing your warm skin and of course, I will never stop loving that beautiful heart that has captivated me and steals my sighs.
The days that I cannot see you, I feel that I am submerged in an eternal and cold night, is that your eyes are the light that illuminates mine, your kisses are the warmth that my heart needs and your love is the breath of life that fills with hope my life.
Love Messages For Him From the Heart
When we are in love, no love phrase seems enough for us to dedicate ourselves to that special person. We hope that these love messages from Dmessages.com can define what you feel and help you fall in love even more with the person who owns your heart and perpetual inhabitant of your dreams.
● Beautiful do not be offended if I tell you this, but you are not human, humans are imperfect, made of mistakes and clumsiness and you are the most beautiful and perfect being that I have come across, you are not human, you are one authentic goddess.
● I thought I knew love when I knew heartbreak I swore never to feel it again, but now that I have known you, I have discovered that I have never felt true love, a feeling that escapes from my heart, from my body and floods the entire universe.
● I know you don't consider yourself beautiful, but you are, and that absolute innocence of your perfection is the most beautiful and saddest thing I've found in this world, I promise to spend every day showing you how beautiful and valuable you are.
● Do not go against the laws of destiny and it dictates that our lips must meet for all eternity.
● I feel like a poor devil lost in the desert and your lips are the oasis I need to return to life.
● God wanted to give me a blessing for a lifetime, so he sent you to my side.
Short Love Messages For Him
Whoever speaks little says a lot I heard once out there and this applies to different situations in our lives, including love. Sometimes, it is better to dedicate a short Messages of love at specific times of the day, because with a short message you can manage to demonstrate that unconditional affection you feel. We invite you to enjoy the beautiful collection that only brings to you.
● I lived in a universe of darkness until you appeared and became the star that illuminates my sky.
● There is no such perfect message of love that I can dedicate to honor our love, I can only tell you that you are my sun, my moon, and my heart.
● There is no water in the world that can extinguish the fire that your gaze caused in my heart.
● My worst fear is waking up one morning and discovering that ours was just a beautiful dream.
● There are a lot of people in this world, but the one who has stolen my heart is you.
● My biggest dream is to wake up day by day and find you next to me, hug you, caress you and wake you up with a sweet kiss.
● My dear, you are the light in my darkness and the energy that keeps me motivated in this life.
Read More: Heart Touching Love Messages
Love does not need too many words to express itself and as we have just shown you, with very few characters you can express your immense love for that special person. Do not hesitate any longer and always remind her how much you love her and how important her smile is to your life.
Cute Love Messages for Him
The beautiful messages of love are a very nice detail that we can send to our couples at any time of the day and give them an unexpected and very beautiful surprise that shows that, regardless of the moment, you are always thinking of him or her.
● Our love is like a great ocean, sometimes it is calm, you can see the beauty of the seafloor and sometimes it is intense, overwhelming, full of foam with the flavor of kisses to deliver.
● Last night I dreamed of your beautiful eyes and your sweet kisses, it was the best dream of my life, we were happy, we understood each other perfectly, I want to make that dream come true if that is your wish too.
● I do not care about facing the darkness and the great dangers that it hides, I do not care about defeating great monsters and destroying my fears, for you I am able to become the hero you always dreamed of.
● When I was submerged in the crudest and most difficult of solitudes I met your sweet gaze, your love rescued me from the embrace of heartbreak and kept the ice from dominating my heart.
● Like a delicate flower, I cannot live without your love for a couple of days, I need your affection, your sweet words, our long meaningless conversations and the warmth of your arms, I love you, my love.
Beautiful Love Messages for Him
● Sometimes I am ashamed as my heart loses control when I see you, it begins to beat wildly and you can almost hear it in the distance, but you are my reason to live, happiness turned into a sweet woman, I love you, my beautiful queen.
● How cruel time is! When we are together it flies by without sense and when I am without you it can turn seconds into real days full of agony.
● In your gaze I can see all the love you feel for me, in your caresses, I feel your devotion and in your kisses, I feel the passion that burns between the two, that's why I am completely sure of the love we share, my princess, I love you very much.
● I never thought that love could turn life into such a beautiful experience, but we stumbled that day and at your side, I understood that true love exists and that nothing is more precious than sharing your life and your time with someone else.
● Perhaps many consider you one more person, however, for me, you are the greatest treasure I could have in my life, you are the entire universe for me.
Read More: Love Messages For Girlfriend
● Precious, no matter what you do or what you think or what our future may be, our love will remain intact and will continue like this for all eternity.
The cute messages of love can inspire us to write our own messages of love for our couples, which gives them the security of being loved and can even fill their day with joy and illuminate the darkness of some bad moments. we hope that our beautiful collection has been useful to express what is hidden deep in your heart.
Sweet Love Messages for Him
These inspiring messages of love are the best way to express the affection you feel for that special person, they are ideal to ignite the spark that the routine has diminished. we are very happy to help couples to find again the love they believed to be extinct and to enjoy again such a wonderful feeling.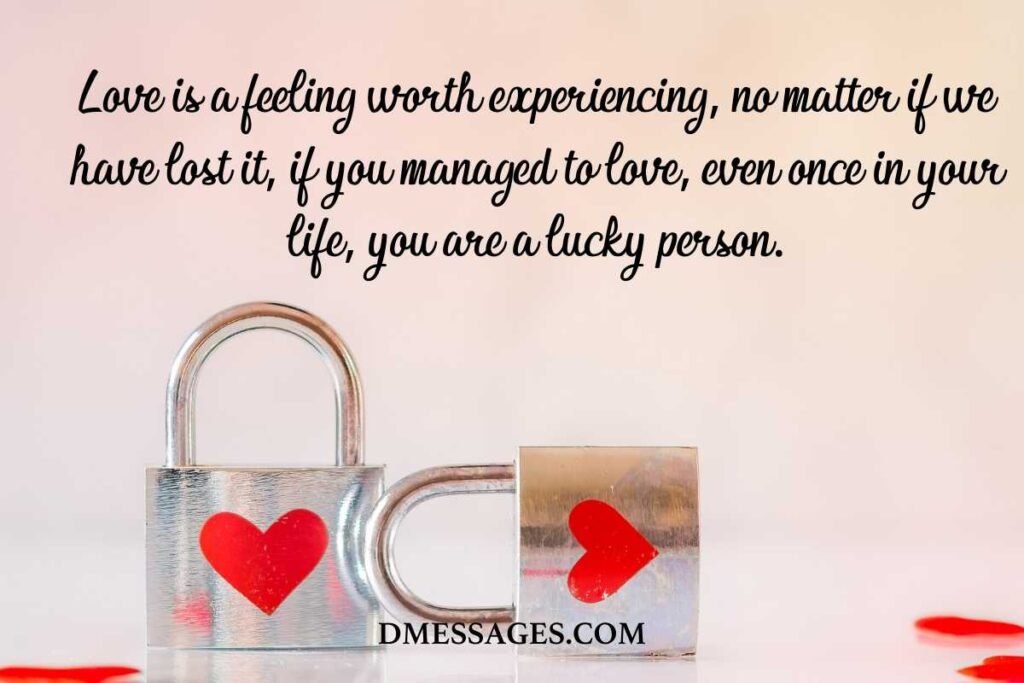 ● The greatest joy we can experience in our miserable lives is love if it is the only thing that makes us happy. Why are we so idiotic as to lose it? I am not an idiot, that's why I will treasure every kiss and hug you give me and I will protect your heart with all my love.
● There are many ways to say "I love you" sometimes it is disguised as a "call me when you get home" or an "I wish you a great day" sometimes, it is more than just a kiss or a hug, it is a look full of meaning.
● I prefer love above all, I know it can hurt and what it means to be vulnerable before others, but compared to the burden of hate, love is worth it.
● Love is a feeling worth experiencing, no matter if we have lost it, if you managed to love, even once in your life, you are a lucky person.
● Only love allows us to find in others those unique characteristics that they did not even know they had, but that makes them beautiful to our eyes and hearts, that is why the question Why do you love me? It cannot be easily answered when it comes to true love.
● Why do I love you? My love, you are the most perfect person who has ever set foot on this planet and that is just one of the little things that led me to love you.
● It was your smile and your love that slid sinuously under my skin and came to my heart to make a home there and fall in love forever.
● Always smile, even if the greatest sadness invades you because the door that leads to true love opens with the key of a smile.
● True love should not be pursued or sought where it is not felt, do not demand love where it does not exist, do not waste your time and look for it, rest assured that you will find it behind a sincere look.
Romantic Love Messages for Him
If you are looking for Romantic Love Messages to dedicate you have come to the right place. we have the largest collection of precious words and messages of love to dedicate to that special person who steals so many sighs day after day. If you are not very good with words or if you are she, you can always dedicate some of our inspirational Love Quotes:
● Every day I look for new ways to lower the sky and that is that a queen like you deserves the entire universe at her feet.
● Love brings happiness and pain, but at your side, I have only known the happiness of having you in my arms and the defeat of the loneliness that darkened my heart.
● They say that if you really love someone you only want their happiness, even if you want to sacrifice your love for them, and it's true, what I feel for you is such a pure love that it's willing to let you fly just to see you happy.
● Infinity is impossible to achieve, but next to you I feel an infinite desire to kiss you, caress you, love you and repeat to you how much I love you.
● Love is the origin of everything in this world, it creates a new life, it drives entire societies, it is the cornerstone of eternal life and the sole food of the soul.
● True love is based on coincidences, there are very few people you can love with all your heart, that's why, if you want to find true love, you must go through the world with an open heart, willing to feel, to believe, to love and be loved and maybe, if you are lucky, you will find someone like me, who loves you madly and wants to go down to the moon.
● Perhaps the world has in store for me great experiences and special moments, but the wonders of the world do not matter, because next to me I have the best work of creation, you, my sweet princess.
● I still remember the day you stole my heart, it was a beautiful day, sunny and with the right breeze to rock your beautiful hair, it was looking into your eyes and feeling that my heart was tied to yours with an indestructible bow, then we met and we understood that we were made for each other, I love you, my soul mate.
● Your kisses are the best experience I could ask life, every time I feel your lips against mine, I feel that my heart fills with life, my soul with light and my mind with dreams to fulfill by your side.
● I know we have been together for a long time, but I want to remind you for the umpteenth time how much I love you because you always smile when I do and your smile is the bread that feeds my soul every day.
we bring you the Romantic Love Messages to dedicate beautifully so that you can express to your partner your great love and devotion. Remember that love is like a big garden and it is necessary to keep it in perfect condition with demonstrations of love and some messages that express your unconditional affection.
Long Love Messages for Him
If you do not want to dedicate the boring messages of always, with our long love messages that have for you, you will find the most original ways to show your affection for that special person because love is not only a feeling full of solemnity and sacrifice but one filled with much laughter and happiness. Dedicate these fun and unique messages and remind your partner how much you love him:
● Sometimes I have severe "I want to see you" attacks, then I remember that we are in different countries and it passes.
● Last night I woke up terrified. My heart wanted to escape from my chest! It was like dying, then I discovered that I was just eager to have you by my side. 63 I'm so in love with you that every minute of the day is 60 thoughts about you, every hour is 3,600 and every day 86400, call me crazy, but I can't tear you out of my mind for even an instant, I guess they call this love.
● I made fun of those who seemed to walk in pink clouds when they fell in love, one day I met love and not only walked on those clouds, but I danced with everything and choreography, you are the only person who has managed to fall in love so deeply.
● My love, they say that the eyes are the window to our souls and I know it because in yours I can only see the beautiful person you are and how much you love.
● I only wish eternity for you, that our love never disappears or have an end, I only want true, unconditional and pure love and I know that together we can build and enjoy it.
● You are the only thing that lives in my thoughts when my mind is at peace and decides to meditate on happiness.
● I love you intensely as if ours were to end, as if the end were tomorrow, it is the only way to live love fully and protect it from any evil, hatred or envy that wants to destroy it.
● Any corner of the world is the best place to be, whenever you are with me there will be a place that I can call: home.
● I have taken my heart out of my chest and left it on yours when we said goodbye, that way I will always be with you wherever you go until we meet again.
As you have seen, love is not only solemn, but we can also dedicate some long messages of love and steal a funny smile from our partner. we always seek that love always follows a natural course and humor is part of it.
Motivational Love Messages for Him
Sometimes it seems that love bypasses the door of our house and never knocks on it, or does so only to leave soon after. For those situations, We brings to you some motivating messages of love that will help you remember that there will always be someone perfect for you, that love can be found anywhere and you just need to have a willing heart to accept it:
● Love is not something you can learn by reading books or memorizing love messages, it is a feeling that you discover and learn through practice, you must love and fail in order to define what true love is for you.
● Loving is not so difficult, you just have to let the heart speak and express all the feelings that are born inside, the only thing that is complicated about love is trying to explain why you love someone, only true love is inexplicable.
● In love you must learn to trust, close your eyes and allow yourself to feel everything that person provokes in you, but to avoid falling or being hurt, you must avoid falling into blindness and stupidity to justify actions that go against the true meaning of love.
● When someone is destined to be your love, you only need an instant for your heart to dominate, a few hours for your mind to fall in love and if everything ends, a lifetime to be able to forget it and learn to live with its memory.
● The most beautiful thing in this world lives in the heart and regardless of all the gifts and roses, it cannot be seen or touched, it can only be felt and lived, enjoyed and protected.
● When we see someone for the first time and fall in love, at first sight, we have only taken a small step, staying in love with that person will be the real challenge and letting him be free when love ends to follow separate paths will be one of your greatest triumphs. Motivating Image of Love Lovely image with the motivational phrase of love
● Even if two people are separated, if their hearts speak the same language, somehow they will manage to live their love, to allow their souls to come together and shape one of the best reasons to live: love.
● Those who have not loved too much do not know what it is to truly love, this is the only measure with which it can be expressed that love is true
● It is impossible to sleep love, end what we feel and build a wall around our hearts just because negative emotions have attacked it and it is that, without them, we could not appreciate how beautiful love is and the power it has to collapse walls and fall in love again.
● Don't you dare to live a life with a person who doesn't fill your heart, because although being with her gives you a false sense of company, the truth is that you live alone?
Love also needs motivation, as an important aspect in our life, we all require a little push to truly love. we are proud to help you with our motivational messages of love to find the best path that leads your heart to find its perfect complement.
Lovers are those people who, even without having the title of boyfriends, live love with all its intensity. In a world where labels seem to be everything, Dmessages has not lagged behind and has presented you with the best messages to dedicate to my lover, taking into account all those subtle details that distinguish him from being a boyfriend.
---
What are the best messages for love?
This is a question that we have all asked ourselves once, the truth is that there are no better messages for love, it is the feeling that is behind the intention of dedicating or writing them that makes them the best message you can dedicate to your couple. The best messages for love are those that include dedications, pledges of loyalty, and the sincere intention to stay with that loved one regardless of the difficulties that may arise.
The words of love meet all those characteristics, that is why you can be sure that you will find only the best messages for love, the only job you should do is choose the one that represents what you feel for your partner or in love.
What is the most romantic saying?
If you want to attract the attention of that special person for you, you just have to find some romantic saying that not only represents what you feel but also leaves valuable teaching about love and its power.
Remember that it is always much better to write a message in your own handwriting and for that, you can help yourself with some of the love sayings that for you, read our wide collection, take your mobile phone and let your imagination and your heart speak for you. If you are much more traditional, you can write it in a letter or card to dedicate those beautiful words that you will surely be able to capture.
How do you express deep love in words?
Expressing deep love in words can be very difficult, words can get stuck in our fingertips, and our brains don't seem to honor the beautiful feelings our hearts experience because of that special person we love.
It can be easier for women to express feelings than for men, which causes a big problem because women enjoy hearing beautiful love messages while men are much more visual. This is the cause of misunderstandings because many girls long for their boyfriends or lovers to dedicate words of love to them. So, guys, you shouldn't forget to check out messages. Top to find the best love messages to keep you in love.
Something that girls should not forget is that men also enjoy messages of love, so they should not leave them aside when expressing their affection.
If you can't find the right words to express your deep love, the first thing you should do is consult messages. our great list of love messages for all kinds of occasions, then you can dedicate them to your partner directly. If you prefer to write something yourself then take the words for inspiration and follow these tips:
Keep loving words in mind
There are words of love that we use only with our partner, calling her baby, my life or heart is something very common and that you can use to personalize a message of love.
Remind him how much you love it.
Not necessary in each sentence, but you can add a sentence with those details that you like about him or her.
Raise your self
If you notice that your partner is "down" with their physical appearance or because they doubt their abilities, raise their spirits with a thought of love with a message that raises their self-esteem, flattering their inner and outer beauty.
Also note that men like flattery, they may not spend as much time on their physical appearance, but they like that they notice those little changes they make in order to feel attractive.
Don't forget a declaration of love
Our language is so rich that we cannot find the exact words to express what we feel towards a person. Perfect love messages should always include a declaration of love. Do not forget that you can say it in many ways "I love you", "I love you", "You are the love of my life", "You are my soulmate", among others.
Offers security
Feeling safe in a relationship is a double-edged sword. Security in a relationship provides stability, but, on the other hand, we can feel too safe and forget to fall in love with that person every day with some small detail, which leads us to fall into routine and boredom.
Offering security to our partner is essential so that they feel comfortable or comfortable with the relationship, something important if they are just starting or if, on the contrary, some event shook the foundations of their love and they do not feel completely safe.
we give special importance to those declarations and messages of love that promise eternal love.
Express yourself
Use your emotions to express yourself in the best way, let what you feel for that person speak for you. Do not put on the brakes, when you finish it will be time to edit, not while you write.
Take the initiative
Your partner may be shy when it comes to writing, he doesn't dare to take the first step or he doesn't know the importance of expressing what he feels. In this case, you have the great opportunity to take the initiative with some love messages inspired by Dmessages.com.
If you have managed to awaken his heart, you will surely receive some romantic reflection back. Do not press if you do not receive the answer you expected, continue sending dedications of love and your partner will understand by example the importance of expressing yourself.
What is the meaning of true love Messages?
True love messages are essential to express that the feelings our heart experiences are real, that we plan to live the relationship to the fullest and treasure the love that is given to us.
When we fall in love we hope to live true and pure love, that's why true love messages are essential to provide that security to our partner. you will find many thoughts on this topic, perfect to dedicate to your partner and show him that what you feel is absolutely real and that you do not plan to let him die.
Why send the dedications of Love?
If you are looking for dedications of love in you are at the beginning of the road to find the answer to this important question and that is that there are many answers to this question.
Love dedications are used to:
Conquer a person.
Celebrate a special date for the relationship.
Brighten your partner's day.
Overcome hard times.
Show him that you are grateful to life, destiny or God for crossing his paths.
Provide security about the relationship.
Grow love.
Correspond to your partner's feelings.
And the most important answer, to demonstrate your true and pure love to that special person. Remember that loving is taking many risks and assuring that the feelings are reciprocated and that both of you truly love each other will represent a great relief and will fill your partner with joy.
Benefits of Sending Love Messages to the Couple
Expressing our emotions is necessary to strengthen the relationship. Indicating what we feel and being very receptive to our partner helps us communicate, increases complicity and makes love grow. It is for this reason that sending love messages to your partner is essential and offers us a series of benefits:
Through the screen we are less shy, so we can express our love without feeling self-conscious.
In established couples, some messages of love can rekindle the flame of love, make our partner fall in love again. They remind her of how much we love and desire her.
Beautiful words of love improve attitude and fuel positive emotions in our partner.
Those who send love messages to their partners to express themselves and remember the love they profess are more likely to maintain a lasting relationship
Why send love Messages at a distance?
When for some undesired reason we must separate ourselves from our partner for a definite or indefinite time, the terrible reality of maintaining a distance relationship arises. There are many myths about love at a distance, but the most widespread is that of failure. Jealousy, infidelity, and lack of communication can lead to a stable relationship, which has been attacked from a distance to the precipice.
If you see yourself in this situation, you must be clear that love can do everything, there is no problem that a couple in love can not solve and that is where the cornerstone to maintain the relationship lies: Falling in love every day. This is much easier when we are close, it is complicated by distance, but it is not impossible and what is more important, we must not forget it.
One of the best strategies to keep the flame of love burning is to send beautiful love messages, you can send them as audio or written, even accompanied by some images of love, you can find many, authentic collections for all occasions.
If you are shy to express yourself, arm yourself with courage and start doing it, because keeping your partner in love is essential to pass the distance test. Remember that if you manage to stay together despite this big problem, your love will be strengthened and unwavering.
I hope you find the messages and messages of love that you wanted thanks to this post. So if we have managed to make you enjoy yourself, do not forget to share on your social networks to your family and friends (do not forget that if you share any phrase you have to include the link to our source). Thank you very much for your time and trust. Long live love in phrases!