Pet Supplies
BEST HOUSE FOR CATS 2023 【Guide and Comparisons】
What is the best cat house on the market?
One of the primary needs of your cat is privacy, for this it is necessary to have a cat house which allows your cat to have his private space.
There are two types of cat houses, the home cat house or indoor cat house (cat beds in many occasions), as well as those designed to be used outdoors, very useful if you have a terrace or garden.
The indoor cat house will offer privacy inside your home, while the outdoor cat house will also offer protection from the environment.
To find the cat house you are looking for, use my comparison chart with the best cat houses on the market.
The 8 best backpacks and bags to carry dogs and cats of 2023
Although it can be installed anywhere in the house, it is ideal for cats that prefer to be more outside than inside, this outdoor cat house stands out for being foldable which makes its installation really quick and easy thanks to its compact design.
Made with high quality EVA materials, this house will create a comfortable and pleasant environment for our cat, protected against inclement weather.
This is considered one of the best thermal houses for cats, which is also waterproof.
Inside it has a mattress which makes our cat can sleep peacefully inside this house. As if that were not enough, due to its design and materials, washing it is very simple.
Features indoor or outdoor cat house
Design: Garden house
For: Outdoor
Colors: Gray
Materials: EVA (very durable thermoplastic material)
Dimensions: 52 x 36 x 42 cm
Amazon Basic products are of the best quality, with an exceptional price. That is why we can find that their cat house offers an excellent option for interiors because this model has a design made to be compact and practical so you can place it in any space in your home.
With enough dimensions for your cat to rest peacefully inside, in the upper part open to the outdoors, this option will offer a perfect place for our cat to rest. In addition, it has a suede lining ideal to improve the comfort of our cat, besides it has holes to increase the interactivity and the possibility of play.
Amazon Cat House Features
Design: Folding bucket
For: Indoor
Colors: Blue, gray and brown
Materials: Fabrics
Dimensions: 38,1 x 38,1 x 43,2 cm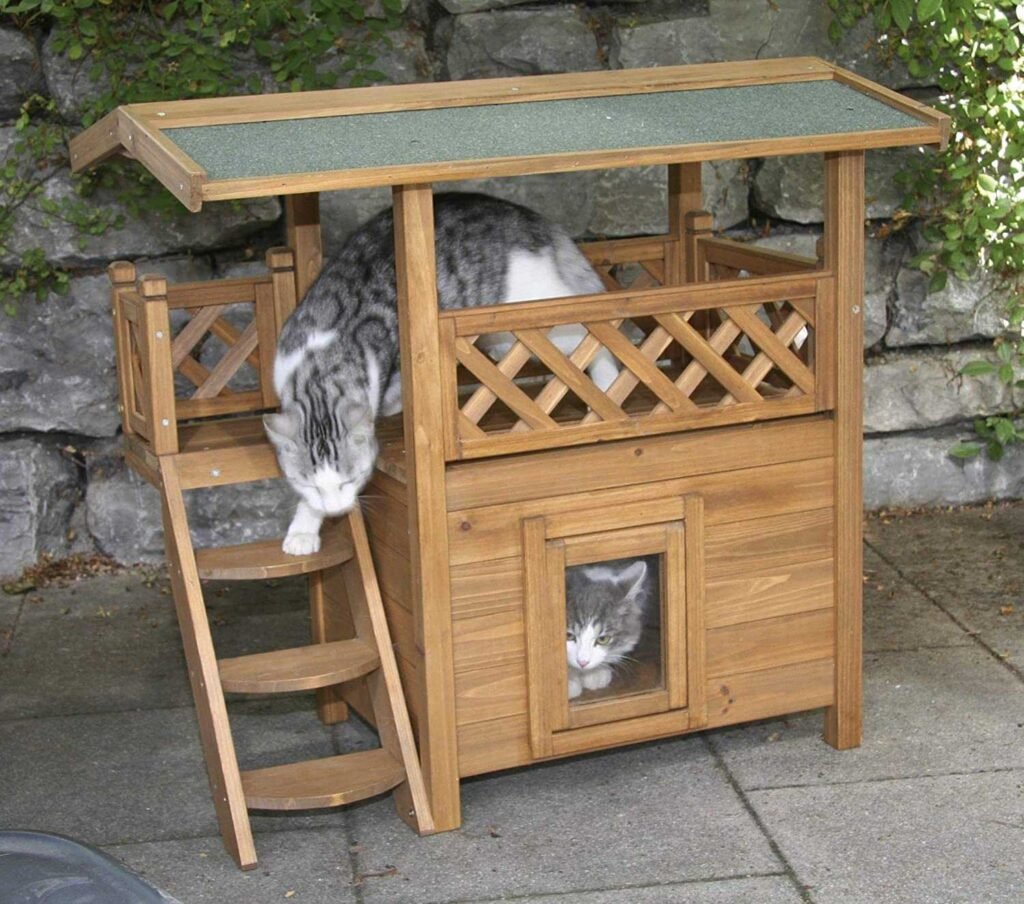 It is designed mainly for outdoors, this cat house is ideal to place it in our garden, porch or garage because it has enough space for our cat to play and have fun. It has both an upper floor covered by a roof, and a closed first floor so that our cat can rest, both floors are units by an access staircase.
Another of the main features is that these wooden cat houses are made of high quality wood which has a special coating focused on increasing its useful life, as well as to protect your cat from inclement weather. Its assembly is very simple and offers an excellent capacity or interior space.
Features Large Cat House
Design: Wooden house
For: Exterior
Colors: Varnished wood
Materials: Wood
Dimensions: 82,5 x 54 x 17 cm
Designed to be used both indoors and outdoors, this cat house stands out for its cubic shape which offers an excellent interior space for our cat.
In this way, our pet will be able to rest peacefully inside since the house has elements such as a ramp door and a roof, as well as walls, with insulating and waterproof coating.
If you are looking for a garden cat house, this is one of the best options as it will offer a great experience for both you and your cat.
Your cat will be comfortable, safe and quiet while you can easily assemble and disassemble this cat house, plus it takes very little time to clean.
Features Wooden Cat House
Design: Garden house
For: Outdoor
Colors: Varnished wood
Materials: Wood
Dimensions: 50 x 42 x 43 cm
Cardboard cat house with two scratchers: This house is not only very original for its design, it is also super practical, it has two cardboard scratchers for cats, one inside the house and that makes the base and another on the roof.
Sturdy cardboard house: Because of its special design, it is one of the most robust cardboard box cat houses you will find, difficult for your cat to handle.
Easy assembly: As you can see from the pictures, assembly couldn't be easier.
Cheap cat scratchers: If we talk about price and compare it with other scratchers, the price is much lower and if we take into account that it is a kind of cat toy, cat house, it is very affordable.
Features Croci Cardboard Cat Scraper House
Design: Cat Scratching House
For: Indoor
Colors: Brown
Materials: Cardboard
Dimensions: 50 x 38 x 35 cm
Lionto wooden cat house, with covered terrace, stairs and a unique design.
Perfect for indoors or outdoors, as the wood is pre-treated with protective paint and will protect the cat from the sun, cold or wind.
Its roof is covered with asphalt mats and the door has PVC slats, so the cat can get in and out easily.
Features Dibea Lodge Cat House
Design: Cat Scratching House
For: Indoor – Outdoor
Colors: Grey-white
Materials: Wood
Dimensions: 77 x 50 x 73 cm
Which cat house is right for me?
While this question should be answered according to your needs, the first thing to consider is where you will place it. Indoor cat houses are perfect to give our cat a private space inside the house.
On the other hand, if our cat enjoys spending time outside our home, then the best option is to look for an outdoor cat house to ensure that our pet will be protected from the environment because these houses have excellent characteristics to withstand the elements.
If you are the happy companion of a cat, you will know that they are fantastic pets that go from frenetic activity to absolute indolence.
Cats can be very active, or they can just lie around for hours in their favorite spot in the house.
Unlike other pets (dogs), cats do like dark and secluded places (cat caves), so installing a cat house, where they feel comfortable and calm, is a wise decision.
Points to consider when buying a cat house
hen a new member of the family arrives, even if it is a pet, we think of all the things it will need and one of the most important is its own space, in the case of a kitten, a cat house, adapted to its needs.
If we are a handyman, we can think of embarking on a homemade cat house. It is true that handmade cat houses have their charm, we are going to fully customize them, but if you are not very handy (like me) and you start looking for how to make a homemade cat house, you immediately lose the desire and even more when you see the prices. I assure you that it is cheaper to buy a bed for your cat or a house, depending on where you are going to place it, than to make one.
As you may have seen, there are houses of all kinds and you may have doubts about which one to choose. No wonder, but don't worry, if you follow these simple tips, you will find the cat house your pet needs:
Size and dimensions of the hut
Obviously size matters. Both the size of our cat, as well as the space available in our house to place "his house".
One of the first points to consider is the size of the cat house. It is quite logical to consider that a large cat should have a large house, for example, and vice versa with smaller cats.
Cats that have been raised together can share a house without problems. In this case, large cat houses are a perfect solution, but if this is not the case, it is best to have two separate houses.
If your house is not big enough for two houses, consider the simplest option, to put two independent beds.
Design
If we talk about modern designs, Ikea cat houses are beautiful, very original. But the design can not stay only in how beautiful it is, it is also desirable that it is practical, and can contain everything that your cat usually uses, such as a cat bed.
Cat House Location
Before buying a cat house, you should consider where it will be installed. The installation is important, because it will determine to a great extent how it should be and what materials it should be made of.
And it will depend on the materials, both the strength of the house and its durability and the comfort of our cat, as well as the practicality when it comes to assemble and clean it.
The houses for cats that are going to go in a garden or on a terrace, must be designed to withstand inclement weather, so that the house of your cat endure and also so that your pet is comfortable, it is not a matter of being cold during the winter.
Wooden cat houses
The most popular outdoor cat houses are made of wood, and they usually have a finish that protects them from the elements. If they are not excessively large, you can put them inside the house when the inclement weather advises a change.
We must make sure that they are resistant, but you must understand that the wooden houses for cats, need periodic maintenance, every one or two years you will have to varnish them.
Plastic cat houses
Plastic cat houses are perfectly resistant to the elements, and if you choose well there are outdoor cat houses that insulate from the cold…yes, thermal cat houses that work as a winter cat house, where they will not get cold and will not get wet.
There are many options on the market today, from cardboard houses to toy cat houses made of lightweight, easy-to-maintain fabrics.
The advantage of cardboard houses is that they are dual-purpose, serving as a shelter for your cat as well as a scratching post.
Shed assembly
Any cat house you buy online will come unassembled, and therefore, you will have to spend a few minutes to assemble it.
I usually recommend buying cat houses from Amazon, for its wide variety of models, colors, designs and most importantly, price. Obviously, Amazon is dedicated to online sales, and the packages of the houses come completely disassembled, so that you can then perform the assembly at home.
The assemblies are very simple, and are usually accompanied by instructions, among which we find the parts that each house has.
Before starting to assemble, it is advisable to check that everything matches, in case it is necessary to make a claim.
My cat has worms how do i clean my house?
Once the house is assembled and everything is in agreement, it is convenient to take into account that, if we want it to last for a long time, we must perform periodic maintenance, especially if they are handmade wooden cat houses.
The plastic houses for garden will need very little maintenance, some cleaning and a hosepipe will be enough. When we bathe our cat, it is also convenient to do an interior cleaning, washing its mattress or blanket.
However, the wooden houses will need periodic maintenance, consisting of cleaning and varnishing, to protect the wood and extend its durability.
Best stores to buy house for cats
Specialized pet stores usually offer a good number of kennels, although we will not always find what we are looking for, even in the largest pet stores.
If we are looking for large cat houses, or cheap outdoor cat houses, it will not be easy.
My recommendation is to buy your cat house online. Thanks to the advantages we have today, finding a house for your cat will cost you very few minutes, and you will have it quickly at your home.
Amazon cat houses
Without a doubt, the best store for pets is Amazon . In Amazon you will not only find the best brands of houses for cats, you will also enjoy the best prices and the impeccable service of Amazon.
Also with all the materials you can imagine, you have plastic, wood and fabric cat houses , even thermal cat houses at a great price.